Of course I didn't get pictures of MY food (we all consumed everything far too quickly, well, except the one you see above), but I'll give you the pics from websites where I got the recipes. We gorged and it was AMAZING! Yeah, I felt a little blah by the end of the day, but I still think it was worth it. =)
Here's the "skinny" (haha…far from it). Click on the pictures to take you to the recipes for each.
Creme Brulee French Toast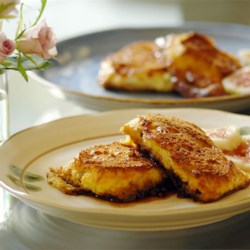 Broccoli & Italian Sausage
Egg Muffins
and here…
Don't compare the cakes too much! I almost didn't even put the picture, but it's okay that I'm a far cry from perfect! =)
The pictures aren't great because I took them at 1am, but you'll get the idea at least.
QUICK TIP: I'm learning how to "make things cute" from my mom. Get out anything and everything you think you might be able to use, then just try stuff! Look at it and see what you think. If you don't like it, try a different combo. I didn't take too long to do this again, because it was 1am, but it still came together nicely.
I used a green Easter table runner (HomeGoods) I had, blue felt cutout placemats (Marshall's), white napkins (World Market), pillow cases (Target) on the backs of the chairs…
…tied with blue ribbon. I used bird picture holders for name card holders (from Michael's) and egg holders (gift from mom) for the two end seat name card holders because I only had 4 birds.
The white jug in the middle was from Joann's and the silk flowers from Michael's.
I'll do a separate post of my family's Easter baskets and egg hunt, but here was our family photo we captured…wonderful Easter celebration! What a special day and memory.
Hope you had a memorable Easter as well!
**FYI – I followed all the recipes to a tee, except the Creme Brulee French Toast. These were the changes I made: I kept the crust on, purchased pre-sliced bread, so stacked two slices to keep it thick enough, sprinkled cinnamon before popping it in the oven, added more grand marnier, took out one egg, and lastly, flipped the bread mid-bake. Seriously….heaven!