********DINNER MENU***********
Monday: Buffalo Pasta (carryover from last week…#hadnachosonsunday #momoftheyearaward #somuchforeatinghealthyin2014)
Tuesday: Good Greens Winter Soup (I always add store bought meatballs…and it's better than it looks, I promise!)
Wednesday: Candied Walnut Gorgonzola Salad (I cheat and buy candied walnuts instead of making them)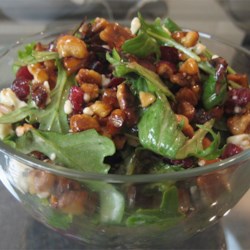 Thursday: Middle Eastern Burgers (sorry, no pic…and if you read the recipe, I use pomegranate jelly. Sounds weird, but it tastes delish!)
Friday: Chicken Kabobs (an easy go-to in our household)
Saturday: Chicken & Gravy
Sunday: Fiesta Chicken Bake (couldn't find it, so here it is below)
Fiesta Chicken Bake
6 chicken legs (thigh-drumstick pieces) (3-3 ½ lbs. total)
½ c. chopped onion (1 medium)
1 T cooking oil
1 14 ½-oz. can tomatoes, cut up
1 8 ¾-oz. can whole kernel corn, drained
1 4-oz. can diced green chili peppers, drained
1 tsp. chili powder
½ tsp. paprika
¼ tsp. ground cumin
1/8 tsp. pepper
Several dashes hot pepper sauce
½ c. shredded cheddar cheese
2 T sliced pitted ripe olives
Rice (optional)
Directions:
Skin chicken. Rinse; pat dry. Arrange chicken in a 3-quart rectangular baking dish. Bake in a 375◦ oven for 30 minutes. Drain fat.
Meanwhile, for sauce, in a saucepan, cook onion in hot cooking oil until onion is tender but not brown. Stir in undrained tomatoes, drained corn, chili peppers, chili powder, paprika, cumin, pepper and hot sauce.
Pour sauce over chicken. Bake in 375◦ oven for 20-30 minutes more, basting occasionally with sauce. Sprinkle chicken with cheese and olives.
********BREAKFAST MENU***********
Monday: Banana Oatmeal Breakfast Muffins (Also, a prime example of me on the path to becoming a "rock star". Previously, I would've gone to make these and FREAKED OUT because I didn't have enough yogurt and no flax seed. When I made them yesterday, I improvised and added some cream to equal the amount of yogurt and omitted the flax seeds. These are DELICIOUS and even my picky eater daughter GOBBLED them up!)
Tuesday: Pumpkin Pie Oatmeal (made this for the first time…could take it or leave it. Son liked it, daughter nearly puked, I tolerated it)
Wednesday: Pumpkin Waffles (and I actually have apple cider from a recipe last week, so I may even make the apple cider syrup – YUM!)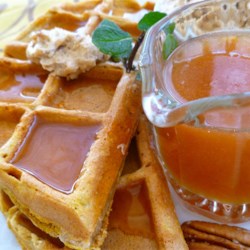 Thursday: Bagel & Mango
Friday: Cereal
Saturday: Cream Cheese Sweet Bread
Sunday: Scrambled Eggs & Bacon (if I can get the hubs to make it…otherwise, cereal
)